KEEP CLICKING BACK, I AM CONTINUOUSLY UPDATING THE LATEST FROM CURACAO, SINT MAARTEN, ARUBA, BONAIRE, THE NETHERLANDS, SABA AND STATIA:
Latest Video From Curacao nu.nl
Overcrowded ICs and more poverty: that's how severe the corona crisis in Curaçao. Curaçao is being hit hard by the corona virus. NU.nl speaks to two residents about the current situation on the island.
Curaçao has the highest number of corona infections per 100,000 inhabitants in the world.
Curaçao can no longer handle the number of corona infections: Dutch tourists called on to return
Sint Maarten to stop travel from ABC islands April 3, 2021 12:59 AM
From Monday, April 5, Sint Maarten will no longer admit residents from Aruba, Curaçao and Bonaire due to the increasing number of corona infections on those islands. Residents from Sint Maarten, Saint Martin, Sint Eustatius and Saba are still allowed to land at Philipsburg airport. They must be able to provide a negative result of a PCR test.
[4/2
https://www.rd.nl/artikel/921532-sint-maarten-laat-geen-reizigers-uit-abc-eilanden-meer-toe
The Netherlands comes to the rescue with vaccines, neighboring island Aruba is preparing to receive patients and Dutch tourists today received an appeal to leave the island.
VIDEO LATEST: Kuido Intensivo Korsou (Intensive Care Curacao) – Eksperensiando Covid-19 Curaçao Intensive Care Unit Covid Infections and deaths continue to rise. Three reported dead April first, two in the hospital, one in a nursing home. MP Diertens of the Tweede Kamer wants to send the S.S. Karel Doorman, a Dutch Military ship that may be converted to a quasi M.A.S.H. unit for Covid19 patients.
MORE INFO AND UPDATES: https://m.facebook.com/profile.php?id=1447082505533658&ref=content_filter
https://m.facebook.com/OfficialStMaartenNews/
Curacao Chronicle: St. Maarten government to decide on border closure to ABC islands
PHILIPSBURG – St. Maarten's Council of Ministers is currently deliberating closing the country's borders to Aruba, Curaçao and Bonaire as of Monday, April 5, because of the exploding number of COVID-19 cases on these three islands.
The Council of Ministers have reportedly shown up to work today, Friday – a public holiday – for an urgent meeting to decide on the border closure.
Collective Prevention Services (CPS) head Eva Lista-de weever recommended the border closures in a letter to Minister of Public Health, Social Development and Labor VSA Richard Panneflek on March 26.
"Considering the regional epidemiology and consequent likelihood of imported cases from highly concentrated pools of the UK variant (B.1.1.7), together with the absence of systematic nationwide genetic surveillance on St. Maarten, CPS recommends temporary border closures to Aruba, Bonaire and Curaçao, effective immediately. CPS would review the situation on each island on a 2-weekly basis.
"Returning residents from Bonaire, Curaçao and Aruba will be required to hold a negative 72-hour PCR test. It is advised that these residents be retested 48 hours after arrival," wrote Lista-de Weever in the letter.
Approximately 75 per cent of Curaçao's new cases are caused by the UK variant, Lista-de Weever said.
LATEST FROM CURACAO: Corendon, which flies with KLM, says that there are still a few travelers on Curaçao. If they want to leave, they can contact Corendon and the travel organization will arrange the return.
Corendon has halted to travel to Curaçao, calling on them to leave the island
Travel organizer Corendon cancels all trips to Curaçao until May 15 due to the rapidly increasing number of corona virus infections on the island. "We are in contact with everyone who is there through the tour guide to discuss the options for return," the travel organization continues.
Call to leave Curaçao
CEO Steven van der Heijden speaks of a "special situation", which has nothing to do with the travel advice that was already on orange. The negative travel advice from the Dutch government will expire on 15 May. According to Van der Heijden, KLM is also "extremely flexible". "We can convert flights for our customers for free."
According to the organizer, several dozen travelers had planned a trip to the island. These were people who had booked a trip a long time ago and still decided to go, according to the CEO.
The Representation of the Netherlands in Aruba, Curaçao and St. Maarten has called on holidaymakers, students and trainees to leave Curaçao as soon as possible due to the serious corona situation. It concerns between 2000 and 3000 people. The call is valid until April 15 in any case. Travelers who leave the island must be tested before departure, when they return home to the Netherlands, they must be in home quarantine.
'Quarantine in hotel room'
KLM also announced that it will keep a close eye on the local situation. According to a spokesperson, it is still too early to speak of an increase in traveler questions about bookings and rebookings. KLM says it has sufficient capacity and flexibility to accommodate an increased number of flights from the island. Travelers who have a positive corona test result are not allowed to fly with KLM.
LATEST FROM SINT MAARTEN:
COVID-19 cases are spiking in #aruba, #bonaire and #curaçao. Many of these cases are caused by the UK #variant (B.1.1.7), which spreads faster than other variants.
We have regular travel to/ from these islands. If you have recently returned from these islands and have symptoms, please come to get tested at Point Blanche. Let's not get complacent. Stay alert.
Data available from the World Health Organization (WHO) here: https://covid19.who.int
B117 #UKvariant
Government of Sint Maarten
Van der Heijden of Corendon says that it has not yet happened that Corendon travelers have been tested positive on Curaçao. "If it does happen, we will continue to house people. Then they have to be quarantined in their hotel room. "
KLM currently operates ten flights a week to Curaçao, directly and via Sint Maarten. These are essential flights, according to the airline. In addition to passenger transport, Curaçao is also an important freight destination, says KLM, including for medical supplies.
VIDEO LINK:

There was a big bachanal in Dutch Parliament today, so I'm not sure if they are sending the Karel Doorman back. Curaçao being the biggest island has always been the back up plan for the five smaller Dutch islands. Plans have changed, Aruba has stopped not emergency surgery to take on Curaçao patients. Bonaire also experienced some deaths, their infections are rising, they are sending their patients to Colombia instead of Curaçao. The Dutch government okayed further aid to Curacao and its hospital. St Maarten will be Saba and Statias back up, and if we get overwhelmed, rest assured the Dutch military will be back. There is a lot of breaking info from the ABC Islands. The Netherlands is asking interns and unnecessary personnel to return to the Netherlands. Yesterday Dutch Sint Maarten Minister Panneflek let everyone know at the Council of Ministers Press Briefing that the rules for travel from the ABC Islands had changed, and would be enforced this coming Saturday
LATEST FROM ARUBA:
The Netherlands calls on tourists and interns to leave Curaçao immediately
WILLEMSTAD – "I still doubt whether I will respond to the call to return to the Netherlands as soon as possible," says Maarten de Groot, one of the Dutch interns who has been doing an internship in Curaçao since February. "But I am a bit dutiful and therefore inclined to respond to such a call. I am now weighing up the situation ", said the intern. Maarten is one of the 100 to 130 Dutch interns on the island.
Yesterday (Thursday), the Representation of the Netherlands in Willemstad (VNW) called on tourists and interns to leave Curaçao as soon as possible. "The current Covid situation in Curaçao is very serious. The care capacity may be inadequate and will come under further pressure due to the high number of infections. Medical care is therefore not guaranteed. That is why we advise all Dutch people who do not live on Curaçao to leave the island as soon as possible ", according to VNW.
Negative travel advice
The local hospital on the island, the Curaçao Medical Center (CMC), announced this week that the situation in the hospital is 'alarming' due to the high number of admitted Covid patients and that they have now been scaled up to the highest phase.
Maarten is disappointed with the advice, also because he then has to work from the Netherlands for his internship, which is very different from the island itself. "I came to Curaçao not only to do an internship, but also to learn about the culture and customs on the island. At that time there was already a negative travel advice. It was already in the back of my mind that you can always be called back. But now that it has really come this far, I am of course disappointed ".
Panic football
According to Maarten de Jong, owner of internship agency Wereldstage, there is 'panic football': "We are not very happy with the way things are going. Better coordination should have been achieved between the Ministry of Education in the Netherlands (OWC), the VNW and the internship offices. It's a bit of a panic action ", says De Jong. "In March last year, we were asked by the OWC in the Netherlands if we wanted to help bring back all students from all over the Caribbean. We did that then. But we are now in a completely different situation than last March. This time, without any consultation with the stakeholders, an advice was issued ", says De Jong.
According to the owner, the students know what they can and cannot do on the island. "They are not the ones who are putting pressure on the health care system. But their own consideration is paramount. It is an advice from the VNW and that is how we communicate it to the interns. We recommend that they discuss the advice with their internship company and with their families at home. We support them with the choice they make ".
De Jong estimates that between 10 and 15 percent of the interns indicated that they would follow the advice and leave this weekend or next weekend. "The vast majority are still looking at it for a while and await the developments."
Income
De Jong also emphasizes that students generate important income for the island. "With messages like this you run the risk that the September illumination will also choose interns for their money. This will have serious economic consequences because of the income they bring to the island. "
Corendon has also indicated that they will temporarily stop offering trips to Curaçao. TUI will continue to fly to Curaçao for the time being.
WILLEMSTAD – "It's really bad. We are all worried. " A nurse at the Curaçao Medical Center says with a penetrating look.
It is shortly after the press conference of the Curaçao government on Wednesday afternoon, March 31, in which Prime Minister Eugene Rhuggenaath and epidemiologist Izzy Gerstenbluth indicated that 'the hospital is full'.
Qualified personnel
There is no room in the intensive care unit and the normal beds are also full of corona patients. Employees make it known anonymously that they never thought it would come this far. At the same time, they wonder why not earlier, and harder, for help was asked.
In recent weeks, new personnel have already been added via American medical employment agencies with Dutch help. Now Rhuggenaath makes an urgent appeal to the Netherlands to help send qualified personnel.
Especially people who can work in intensive care and with the respirators for the corona patients are needed. The answer to the question of why the emergency bell did not ring earlier was already given by the government. Curaçao has been overcome by the speed of the number of corona infections. This is a direct consequence of the British variant, which 'flooded' things, as Gerstenbluth puts it.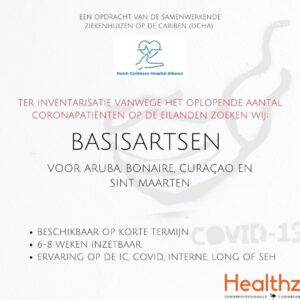 Negative scenarios
The most negative scenarios with regard to distribution have become conservative because of this variant. On March 17 there were 142 new cases and a total of 611 active infections, a week later on March 24 there were 250 new cases and there were already 1445 active infections, on March 31 there were 506 new infections and 3,102 active infections. infections. A rapid increase, with 13 deaths since March 17 (from 22 to 35).
Many of the people on the IC, including among the dead, are relatively young. Gerstenbluth: 'It is no longer your 92-year-old great aunt who already had several complaints and eventually dies of corona. It is bad that she dies of course. But people of 30 or 40 years in the prime of their lives…. that makes the situation even worse, 'says the epidemiologist, who had difficulty controlling his anger and grief about the situation.
He appeals to people to get vaccinated and to stay at home as much as possible. Also during the Easter weekend. The curfew has been brought forward and will start at 7 PM from Friday, instead of 9 PM.
Thousands of extra vaccines
Shortly after the press conference, the news came that the Netherlands will be sending thousands of extra vaccines against the corona virus to Curaçao on Friday. It concerns a delivery of 30,000 vaccines, which is destined not only for Curaçao, but also for Aruba. In addition, the Netherlands will help recruit medical personnel. In the Netherlands, among other things, people are looking at whether people are willing to travel to Curaçao.
Anyone over the age of eighteen on the island can register for a vaccination as of April 5. The nurse in the hospital, who wants to remain anonymous, hopes that as many people as possible will do the same. "So that the enormous pressure we now feel in the hospital diminishes again."
Aruba solidarity
The HOH hospital of Aruba has now canceled all (except oncology) operations and day admission that are not urgent in order to be able to help the neighboring islands. This allows the hospital to arrange 30 extra beds for corona patients and 6 extra places in intensive care. Next week, the hospital says it has a total of 62 Covid beds and 22 IC places.
Aruba also has an increase in the number of corona cases, but much less than in Curaçao. The tourist area is still quite busy, mainly due to American tourists. The catering industry is also open. According to the latest figures provided by the government, there are 673 active cases of which 54 are foreigners. This morning there were 42 in the hospital, 11 of whom were in intensive care. Almost 19 thousand inhabitants were vaccinated (more than 10 thousand also with the second shot).
Nederland roept toeristen en stagiaires op Curaçao per direct te verlaten
Corendon staakt voorlopig reizen naar Curaçao, oproep eiland te verlaten